Information on the Department Encampment
DEPARTMENT of the CHESAPEAKE (Serving Maryland, Delaware, Virginia, West Virginia and the District of Columbia) SUVCW 132 nd Annual Department Encampment will be held in May 3rd - 5th 2019 at Ellicott City, Maryland
LOCATION
Turf Valley Resort 2700 Turf Valley Road Ellicott City, MD 21042 https://www.turfvalley.com 410-465-1500 or 800-833-8873
ACCOMODATIONS
Must use group code (28671E) Department of the Chesapeake, SUVCW for rates (excluding tax): $113 "traditional" room rates1 or 2 Double beds; $113 golf view 2 Queens; $138 Queen Petite Ste; $138-BR Ste; $138 Exec. King; $138 King Jacuzzi Ste. Rooms rates reserved Thursday – Sunday
Room rates only guaranteed through 4/2/2019
FRIDAY ACTIVITIES
12:00 PM – 3:00 PM Walking Tour of the United States Naval Academy - Meet at Visitors Center. Special requirements for admittance, parking apply. For more information and important details: https://www.usnabsd.com/for-visitors/tips-for-visitors/
********* IMPORTANT NOTICE FOR TOUR*********
You Must Read Department Order #7 and review the detailed requirements necessary for entry on the grounds of the Naval Academy. If you do not have the proper identifications and meet the requirements you will not be able to take the tour. A copy of Department Order 7 is provide for your convenience isimmediately to the right of this statement and between the two photos.
4:00 PM - 6:00 PM Early Arrival - Encampment Registration, Sign-in.
6:30 PM Group Dinner: Mission Barbeque 3410 Plumtree Dr. Ellicott City, MD 21042 mission-bbq.com
********* IMPORTANT NOTICE FOR DINNER *********
When arriving at Mission Barbeque you should place your food order and then proceed to the area we have reserved for our meal.


PROGRAM AD's
Lunch Program Sponsor (listing): $5
Half Page Encampment Ad: $10
Full Page Encampment Ad: $20
Ads must be submitted in Word – images in jpg or gif format only; NO LATER THAN APRIL 12, 2019 to: deptchsec@gmail.com
SATURDAY'S SCHEDULE
Registration: 7 - 8:00 AM
Joint Service: 8:00 AM
AM Session: 8:45 AM
Joint Luncheon: 12:00 Noon
PM Session: 1:30 PM
Visits: By ASUVCW 1:45 PM
Visits: By SUVCW 2:15 PM
Group Photos: 5:00 PM


SPECIAL HIGHLIGHTS OF THE ENCAMPMENT
Commander-in-Chief Donald Shaw and National President Denise Oman will be in attendance + Luncheon to feature Department Awards and Special Presentations
REGISTRATION INFORMATION:
Please indicate on the registration form DUE NO LATER THAN APRIL 12th what you plan to attend and/or your sponsor/ad choices. Please also enter the name(s) attending the Friday night group dinner (at your own expense.)
NOTE: Registrations received after April 19th WILL NOT guarantee a seat at lunch. IF YOU REGISTER AFTER April 12th, registration fees INCREASE to $20. Please REGISTER EARLY!
For Your convenience a link to a fillable PDF registration form is provided by click hereRegistration Form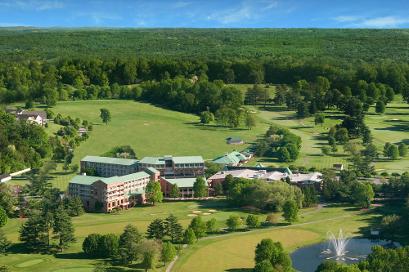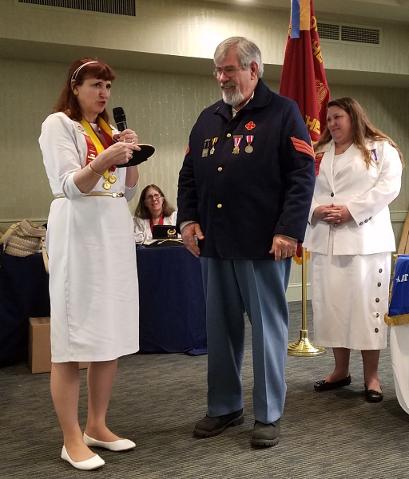 (Above) During the 2018 Department of the Chesapeake Annual Encampment, Rosemary Martin President Department of the Chesapeake Auxiliary presents an award to Brother Barry Famous
(Below) Sister President Rosemary Martin presents an award to the Commander of the Department of the Chesapeake W. Faron Taylor.